- Highlights -
The 62nd Pebble Beach Concours d'Elegance 2012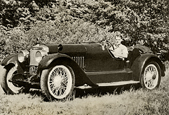 ...features Cars of the Maharajas such as Bugatti, Daimler, Rolls-Royce, Hispano-Suiza with custom coachwork. Also Mercer, Fiat and Special Classes: including Shelby AC and AC Cobra, 50 years of Saoutchik Coachwork, , also Sport Customs from the 1930s-50s and German Motorcycles. more...
(Photo courtesy of Johnny Crowell/Pebble Beach Concours d'Elegance)
The Quail, A Motorsports Gathering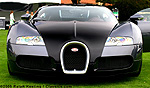 ...pays tribute to Pre-war Alfa Romeos, the 50th Anniversary of Iso Automobili and Sport and Racing Motorcycles. Also a fireside chat with Sir Sterling Moss, test drives of Jaguar, Mercedes and Land Rover, and Bonhams 2-day Auction. more...

Concorso Italiano- 'A Celebration of Italian Style'
...will honor Pagani Automobili, feauring the 'Huayra', new for 2013.
Rolex Monterey Motorsports Reunion
...features Ford Motor Company's Shelby Cobra Heritage Display-honoring the 50th Anniversary of the Shelby Cobra and Carrol Shelby with 11 notable cars and a recreation of the original design studios.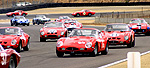 Historic race and sports cars in 17 groups such as 1966-1972 Trans-Am,50s and 60s GT cars and Formula Atlantic including Sports racing and Touring cars from pre-1940 through 1979. more...
Gooding and Co. Auction
...features legendary autos including

a 1955 Maserati A6G/54 Frua Berlinetta, an outstanding 1966 Shelby 427 Cobra, ultra-rare 1936 Mercedes-Benz 540 K von Krieger Special Roadster,
and Prince Louis Napoleon's 1938 Bugatti Type 57C Stelvio, among many other sensational classics. more...
(Photos courtesy Gooding & Company)
Russo and Steele 12th Annual Sports and Muscle Auction

...billed as the "Mecca for Collector Automobiles"... a first rate collection of the highest quality, most luxurious and collectable European sports, American muscle, hot rods and custom automobiles - both reserve and no reserve. Also featuring Edelbrock Day, Friday, August 17 hosted by the Edelbrock team. more...
(Photo courtesy Russo and Steele)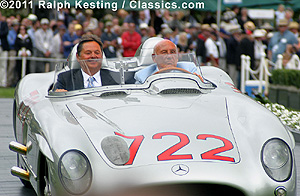 Photo: Sir Stirling Moss and Denis Jenkinson in the 1955 Mille Miglia Mercedes-Benz 300 SLR at the 2011 Pebble Beach Concours d'Elegance.



Bonhams and Butterfields Auction
...featuring the Ex-GTC Gulf Team Davidoff,the final example produced, 1997 McLaren F1 GTR 'Longtail' FIA GT Endurance Racing Coupe Chassis, a 1966 Ford GT40- Chassis no. P1033, the Ex-NART and Geneva Motor Show 1972/75 Ferrari 365 GTB/4 Daytona Competizione Spyder, Chassis no. 15965, and a 1940 Crocker 61ci 'Hemi-Head' V-Twin Engine no. 40.61.109. more...

(Photo courtesy Bonhams Auction)
Mecum Auctions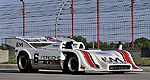 ...features 'Muscle Cars and More'... Lot S123 1972 Porsche L&M 917/10 Spyder '72 Can-Am Champion Driven by George Follmer, a 1968 Lotus Type 56 #70 Turbine Indycar Driven by Graham Hill, a 1956 Mercedes-Benz 300 SL Gullwing, and a 1936 Auburn 852 SC Boattail Speedster and 1965 Shelby Cobra 289 Roadster CSX 2428. more...
(Photo courtesy Mecum Auction)
R M Auctions - Monterey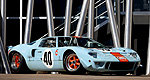 ...features a 1938 Horch 853A Erdmann & Rossi Sport Cabriolet, a 1955 Ferrari 410 Sport Berlinetta, and a flawless 1938 Talbot-Lago T23 Teardrop Coupe.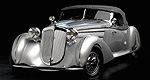 Two legendary race cars - a 1968 Ford GT40 Gulf/Mirage Lightweight Racing Car, chassis P/1074, and an unrestored 1967 Ford GT40 MK I. more...

(left photo credit credit Mathieu Heurtault courtesy RM Auctions)
(right photo courtesy RM Auctions)(bottom photo credit Jamey Price 2012 courtesy RM Auctions)
AUTOMOBILIA is presented at Pebble Beach Week with the Pebble Beach RetroAuto and Automobilia Monterey.