SOCEMA Gregoire
In October of 1952, the visitors of the Paris Auto Show would discover an astonishing car with its shapely body hiding a gas turbine. At that time, the aircraft industry developed designs and construction schedules of turbojets and turbo propellers. The S.O.C.E.M.A (Company of Constructions and Mechanical Equipment for Aviation) exhibited several engines at the aviation show of 1949. The persons in charge developing the turbines are interested in the use on the ground as well. The idea to design a very compact gas turbine and to install it into a car had been born. The automobile part of this project was entrusted to a French engineer by the name of Jean Albert Gregoire. The prototype was made of aluminium cast. The manufacturing and the assembly of the body were done at Hotchkiss. For the transmission an electromagnetic Cotal was chosen. Given the fact, that a turbine does not generate any braking effect upon deceleration, an electromagnetic TELMA brake system was added to the transmission. The gas turbine used in this prototype had a weight of 130 kg (or 280 pounds), and - in theory - was designed to accelerate the 1300 kg (2800 pound) vehicle up to a speed of 200km/h (120 mp/h). The final development of the SOCEMA Gregoire - however - was far from being accomplished. The problems of temperature, consumption, and to the cost of constructing the turbine, one would have to add the design of a complex brake system. Shortly after its official presentation to the journalist and a test run of the protype, the futuristic project of the SOCEMA Gregoire was abandoned. The SOCEMA Gregoire shown here is the property of the Car Club of the West and is on display at the Museum 24 Hour of Mans in Sarthe.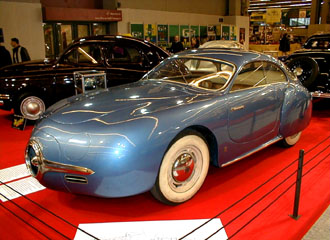 The SOCEMA Gregoire - under a streamlined body, it featured the first attempt to utilize a gas turbine instead of a combustion engine.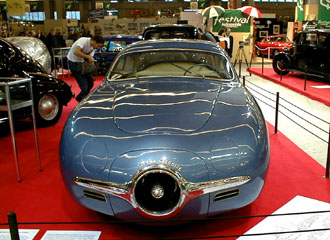 Remember the future - the front of the SOCEMA Gregoire
suggested that this was no ordinary automobile.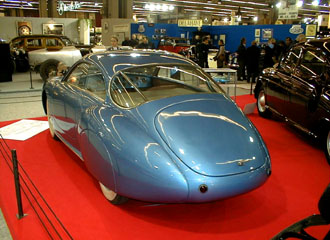 Covered rear wheels, generous use of glass and a
body made of aluminum - even without a gas turbine,
this was an advanced design.