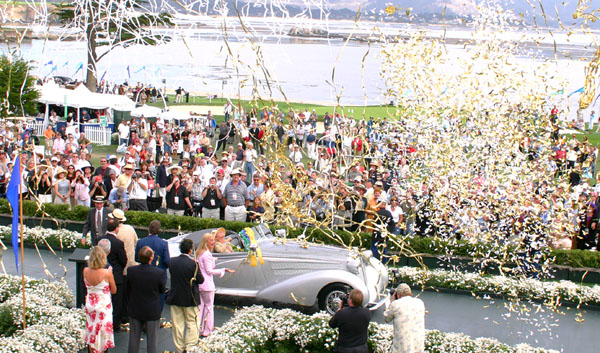 'Best of Show' 2004 - 1938 Horch 853A Erdmann & Rossi Sport Cabriolet, owner Joseph C. Cassini III.




Rolls-Royce Historical Display
The year was 1904 when Charles Stewart Rolls and Frederick Henry Royce met at the Grand Central Hotel in Manchester, England, a meeting which would initiate the formal creation of a new brand of automobiles - the Rolls-Royce - by December of the same year. The first model - the former Royce - was a 2-cylinder with 10 hp, but the lineage quickly included 3-, 4- and 6-cylinder models with up to 30 hp as well. In 1906, the new 6-cylinder 40/50 hp was introduced at the Olympia Auto Show, and in 1907, the twelfth such automobile was prepared for a long-distance trial to demonstrate the reliability of the marque. Painted entirely silver and having silver-plated lamps and fittings, it was named the Silver Ghost. During the Scottish Reliability Trials it would cover 14,371 miles without any unintended stops.




The first Silver Ghost


1907 Rolls-Royce Silver Ghost Barker Touring, the original Silver Ghost and owned today by Bentley Motors Limited.


The largest Silver Ghost


1912 Rolls-Royce Silver Ghost Barker Pullman Limousine, offering comfortable seating for 10 persons.


The Most Colorful One


1914 Rolls-Royce Silver Ghost Barker Double Cabriolet.
More information and photos to follow....
Please don't miss our reports about the Monterey Historic Automobile Races 2004 and The Quail 2004 - A Motorsports Gathering.

Previous Classics.com Features :

Pebble Beach Concours d'Elegance 2003

Pebble Beach Concours d'Elegance 2002

Pebble Beach Concours d'Elegance 2001

Pebble Beach Concours d'Elegance 2000

Pebble Beach Concours d'Elegance 1999

E-mail this page to a friend
Classics.com Home
---
© 1999, 2000, 2001, 2002, 2003, 2004 Classics.comTM
with permission of Pebble Beach Concours d'Elegance
All Rights Reserved
Disclaimer