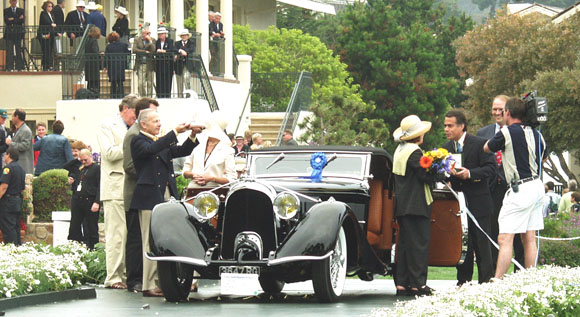 Best of Show 2002 - 1934 Voisin C-25 ETS Saliot Roadster with the owners
Sam and Emily Mann, winning for the third time after 1991 and 1996.
For the 52nd time, the Pebble Beach Concours d'Elegance presented the most prestigious classic automobile event in the world. This years' featured marque was Cadillac, which celebrates a one hundred year anniversary in 2002, and was displayed in three different classes. Other special classes featured Jaguar Race Cars, Maybach, and Fiat 8V (Otto Vu). For the first time, a class solely for restored chassis without the coachwork was part of this years' Concours d'Elegance.
Special displays on the upper field showcased concept cars and new models - potentially sought after 'classics' in years to come.


Most Elegant Closed

1949 Cadillac Series 62 Coupe
with coachwork by Coachcraft.

Most Elegant Sports Car

1951 Ferrari 212 Export Spider
with coachwork by Vignale.
Maybach Zeppelin

1938 Maybach DS 8 Zeppelin Sport-Cabriolet
with coachwork by Spohn of Ravensburg, Germany.

Maybach Zeppelin

1934 Maybach DS 8 Zeppelin Cabriolet
with different coachwork by Spohn.
Jaguar Race Cars

1954 Jaguar D-Type Open Two Seater
with the rare fin in the rear.

Jaguar Race Cars

1951 Jaguar XK 120 Open Two Seater -
in the race colors of Ecurie Ecosse.
Fiat 8V (Otto Vu)
50 years ago a widely unknown, but highly sophisticated and competitive sports car had it's debut at the Geneva Auto Show of 1952 - the Fiat 8V or Otto Vu in Italian. The marketing department of Fiat simply reversed V8 to 8V to avoid potential trademark or copyright problems with the big American manufacturers. At a time, when most Italians (and Europeans) dreamt of owning any type of wheels, a V-8 equipped sports car would not be the top selling product for a company like Fiat, thus a short lifespan was foreseeable. The Otto Vu was intended to be an experimental and developmental platform rather than an export article. The shape of it's body came out of the wind tunnel - revolutionary in 1952 and the work of Fabio Luigi Rapi; and it was the first car having a fully independent front and rear suspension - thanks to Fiat chief engineer Dante Giacosa.


1954 Fiat 8V
of the second series with factory coachwork.



1953 Fiat 8V
of the first series with factory coachwork.
The chassis was produced by Siata and the bodies of the first series were built by Fiat's Carrozzeria Speciale. In 1954 Zagato bodied 25 chassis - 6 already had factory bodies and were refined into the Elaborata. Giovanni Savonuzzi created at Ghia the spectacular Supersonic - a design which was also carried out on a Jaguar and Aston Martin chassis. After only 114 units, Fiat ceased the production of the Otto Vu in 1955.


1954 Fiat 8V Elaborata
with coachwork by Zagato.



1954 Fiat 8V Supersonic
with futuristic design by Ghia.
Cadillac V-16

1930 Cadillac 452 Convertible Coupe
with coachwork by Rollston.

Cadillac

1954 Cadillac Series 62 Cabriolet
with coachwork by Pininfarina.
Classic and Vintage Chassis

1925 Doble Steam Motors Model E
from the Nethercutt Collection.

Classic and Vintage Chassis

1940 Bugatti Type 64

Other noteworthy automobiles on the green of Pebble Beach


1937 Hispano-Suiza Break de Chasse
with coachwork by Franay.



1937 Duesenberg JN Berline
with coachwork by Rollston.
To be continued...




Please don't miss our reports about the Pebble Beach Tour d'Elegance, the Monterey Historic Automobile Races 2002 and the Concorso Italiano 2002.

Other Classics.com Features :

Pebble Beach Concours d'Elegance 2003

Pebble Beach Concours d'Elegance 2001

Pebble Beach Concours d'Elegance 2000

Pebble Beach Concours d'Elegance 1999

E-mail this page to a friend
Classics.com Home
---
© 1999, 2000, 2001, 2002 Classics.comTM
with permission of Pebble Beach Concours d'Elegance
All Rights Reserved
All images © 2002 Ralph Kesting
Disclaimer